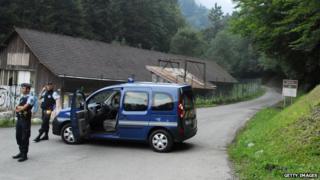 Getty Images
A four-year-old girl has been found hiding in a British car in France where three other people were found dead, say French police.
The police there believe they were all from the same family, on holiday in the French Alps.
Another young girl found injured but alive was flown to hospital. A French cyclist was also found dead nearby.
Detectives think the people were shot with a pistol. It's extremely rare for events like this to happen.
The four-year-old girl is being looked after by French authorities while detectives investigate what happened.
British and French officials are trying to find out the identity of the family, and a major operation is under way to find who carried out the crimes.
Newsround guide: Advice if you're upset by something in the news