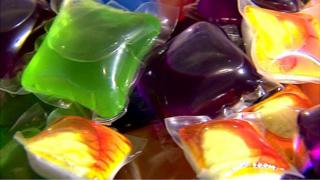 Doctors are warning about the dangers to young children of liquitabs used in washing machines and dishwashers.
The Royal Hospital for Sick Children in Glasgow says it's treated growing numbers of toddlers who suffered burns after biting or squeezing the tabs.
Medical experts are calling for the companies who make the tabs to child-proof the packaging.
They say toddlers try to eat them after smelling them and seeing the bright colours, thinking they're sweets.