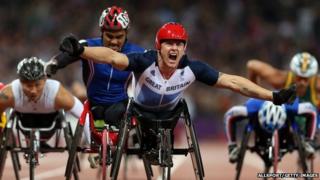 Allsport/getty images
The London 2012 Paralympic Games have been the most popular ever, with record ticket sales and millions more watching on TV.
The best disabled sportspeople from all around the world have lit up Britain's capital city on their quest for Paralympic glory.
Record numbers have seen the golden achievements of GB wheelchair racer David Weir, who doesn't have use of his legs, and cyclist Sarah Storey, who has a partially formed left hand.
London 2012 organisers say the Games are helping to change attitudes towards disability and open up disability sports to a new audience.
We asked if you think the Paralympics have made people look at disability in a different way and here are a few of your comments:
Your comments
"The Paralympics gives disabled people the opportunity to show the world what they can do."
Troy, Hororata, New Zealand
"Before, I didn't watch the Paralympics that much but now I really like it and I think it is even more emotional to watch than the Olympics. I also think it has changed how people think of disabled people and it has earned them alot of respect. "
Silvana, London, England
"I think that the Paralympics have shown people that these athletes are just as good as Olympic athletes but they just do it a little bit differently."
Hannah, Angus, Scotland
"The Paralympics haven't changed my views on people with disabilities - just as the Olympics haven't changed my views on people as an overall species. Except for the fact that I'm now aware that they are willing to spend £11billion on a group of people competing for glory."
Aleph, London, England
"I love seeing the people competing smile - whether they lose or win, they deserve to. Disability should stop nothing. Just shows you can follow your dreams."
Sasha, England
"The Paralympics has inspired me with my GCSE work because it shows me that no matter how hard life gets you should always carry on. If you put your mind to it you can achieve great things."
Bethan, Crewe, England
"I think the Paralympics will change the world as it inspires a lot of people to forget their disabilities and have fun!"
Daisy, Helensburgh, Scotland
"The Paralympics have made us realise that Paralympians are great at sport even though they have disabilities."
HRCP School, Wolverhampton, England
"I know people with disabilities and being able to watch the Paralympics has made them feel better about themselves."
Ellie, England
"The Paralympic Games gives the people who have a disability a chance to show who they are and what they can do."
Nivethan, Essex, England
"This morning we discussed the Paralympics and as a class. We agreed that before the Paralympics came to East London we didn't know that much about the athletes. By understanding the events the games are getting better and better. We are going to have a go at Goalball in PE!"
M5-4, Nelson Primary School, London, England
"I think the games have really changed the views of disability around the world. It shows you can do your dream, no matter what."
Luca, Enniskillen, Northern Ireland
"My brother has a disability. I hope the Paralympics have come to help people to understand a little bit better that they are human but different in a good way!"
Jessica, London, England
"I thought that having disabilities would make it harder to do certain things. But the Paralympics just go to show that nothing is impossible if you set you mind to it and actually, Paralympians are just as good as Olympians.
Hawa, England
"Now I know that disabled people can be just as mentally and physically fit as people without a disability."
Abbaas, England
If you send us a comment, it may be published on the Newsround website and some comments may be used in our TV bulletins. We'll use your first name and your home town to show that it's your comment; your personal details won't be used for anything else.