One of the world's rarest turtles has been bred in the UK for the first time.
Vernon, the Vietnamese box turtle, was born at Bristol Zoo in July and is now about the size of a matchbox.
He's being kept in a special heated room and being hand-fed chopped worms.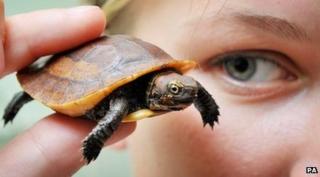 PA
The zoo's reptile curator Tim Skelton said: "Not a lot is known about this species so we can learn an awful lot from this baby to improve our chances of breeding more in future."
They became critically endangered because people hunted them for their meat, for medicine and to be pets.
This is only the second time the species has been bred in Europe, after earlier success at a German zoo.