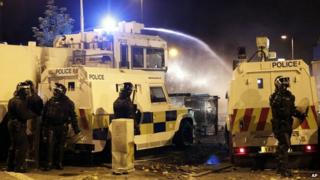 Violence breaks out for second night in Belfast
Violence broke out for the second night in a row in Northern Ireland's capital city, Belfast.
15 police officers were injured, as petrol bombs, bricks, fireworks and stones were thrown at them.
Police were trying to to break up the fighting between two groups of people called loyalists and republicans.
These groups share a long history of violence in Northern Ireland that goes back hundreds of years.