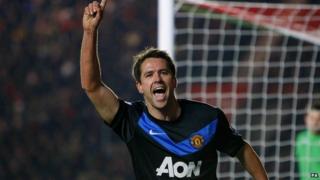 PA
Michael Owen - former Liverpool, Real Madrid, Newcastle and Manchester United striker - has signed a one-year deal with Stoke.
He was a free agent which meant he was not tied to any other clubs and his move did not need to happen during the usual transfer window.
Rumours abounded Owen was heading back to Liverpool after boss Brendan Rodgers refused to rule out the move.
His Stoke signing needs to be approved by the Premier League Board.
The England striker has 89 caps and 40 goals for his country, though he has not played internationally since 2008.
He spent three seasons at Manchester United but played in only 52 games, scoring 17 times.
His arrival at Stoke means he's reunited with old Liverpool team-mate Peter Crouch.