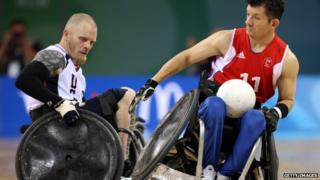 Getty Images
Wheelchair rugby is not for the faint-hearted. It's the toughest sport on wheels, with full-on wheelchair contact allowed.
That makes for some crunching collisions!
It's played on a basketball court - with four players per team. A match is made up of four eight-minute quarters.
The players can be men OR women but they must have a physical impairment that affects the arms and legs.
The aim of the game is to carry the ball across your opponent's line.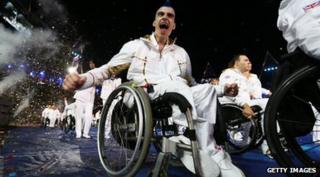 Getty Images
You have to dribble or pass the ball every 10 seconds - and when a team gets possession they only have 40 seconds to score a goal!
Serious injuries?
For spectators, the biggest thrill is watching the chairs colliding at speed but that can lead to some serious injuries.
GB captain Steve Brown fell out of his wheelchair during a game after crashing with two other players.
He broke his breastbone and four ribs - and was in hospital for six weeks.
What are the medal chances for Paralympics GB?
They're currently ranked fifth in the world, and among eight teams competing for gold.
They finished fourth at the last two Paralympics so they'll be hoping the support in London will help them grab a medal on home turf.