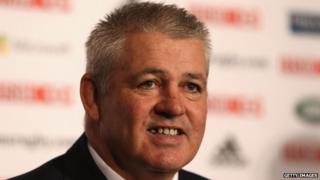 Getty Images
Wales rugby union coach, Warren Gatland has been named the new Lions boss.
The British and Irish Lions is a "super-team", made up of the best players from England, Scotland, Wales and the Republic of Ireland.
Gatland was going to be appointed in April, but that was postponed after he broke both his heels in a fall.
The 48-year-old begins his new job immediately and so won't help Wales defend their Six Nations title next year.
He was in charge when Wales won the Grand Slam in the 2012 Six Nations.
"I am really honoured to have been asked to take the position of head coach," Gatland said.
The New Zealander's first task will be to pick and prepare a squad to take on the might of Australia, in three Test matches next year.
"There is no question it will be a challenge; playing in the southern hemisphere is one of rugby's hardest challenges," Gatland said.
England forwards coach Graham Rowntree and Wales defence coach Shaun Edwards may well be part of Gatland's staff but those appointments are not expected to be announced until October.