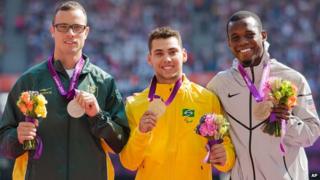 AP
It's become one of the biggest talking points of the Paralympic Games. Was Oscar Pistorius right to complain about the length of his rival's blades?
After his shock defeat to Brazil's Alan Olivera in the T44 200m final, Pistorius said his opponent's blades were too long.
Some people have agreed with the South African sprinter, while others think he's being a bad loser.
So who's right? Check out our guide for all the answers.
Q1: Was the race fair?
Because of all the different disabilities at the Paralympic Games, deciding whether a race is fair or not is often very tricky.
However, Pistorius and Olivera are both double below the knee amputees and run on carbon fibre blades, so are easier to compare than many other athletes.
Pistorius says that Olivera was so fast because his blades were too long in comparison to the rest of his body.
But the Brazilian says his speed was down to hard training.
Q2: Does Pistorius have a point?
When the pair stand next to each other Olivera's blades do look longer, but according to the International Paralympic Committee they are within the rules.
The maximum length of the blade each competitor is allowed to wear is based on the height of the athlete's body and calculated by a complex formula.
Q3: Why doesn't Pistorius just make his blades longer?
Pistorius would be allowed to run on longer blades, in fact he could make his blades nearly 10cm longer if he wanted to.
However, if he was to do this he wouldn't be able to run in fully able bodied events like the Olympic Games.
That's because their rules are drawn up by a different organisation called the International Amateur Athletic Federation.
At the moment Olivera doesn't compete in able bodied events, so he doesn't have to worry about any of their rules.
Q4: So do longer legs make you run faster?
Well the longer your legs are the longer your stride length will be.
One of the reasons Usain Bolt is so fast is because he takes far fewer strides than his rivals, meaning he can cover a greater distance in a quicker time.
However, it would be wrong to say that size is the only factor.
Yohan Blake and Tyson Gay are two of the fastest men in the world and are both under 6ft.
Also it is worth noting that despite Pistorius complaining about the length of Olivera's blades, the South African was still taller than his rival and took fewer strides over the course of the race.