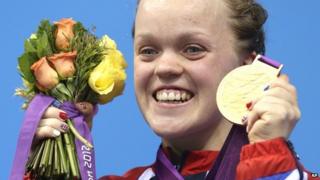 AP
Ellie Simmonds has won her second gold medal of London 2012 - and broken a world record - after victory in the women's individual medley 200m SM6.
The medley requires competitors to swim butterfly, backstroke, breaststroke and front crawl all in one race!
Simmonds had previously broken her own world record in the individual medley heats.
She said: "To do another personal best, I am chuffed.... it is amazing to do this in front of this home crowd."
She added: "I have two golds, and I have two more to concentrate on. Let's hope I wake up tomorrow in form."
Fellow British swimmer Natalie Jones also won bronze in the same race.
Jones said: "I cannot believe it was so close. I am more than happy to get a medal, I am delighted."