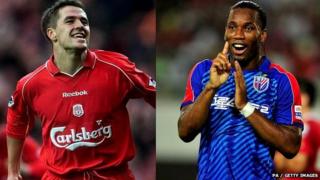 PA / GETTY IMAGES
Liverpool boss Brendan Rogers has refused to rule out the possibility of signing Michael Owen or Didier Drogba.
Ex-Liverpool player Owen and Drogba are both 'free agents' so can join a club outside normal transfer windows.
The news comes as Liverpool's main owner John Henry has written a letter to fans after the team's worst start to a season for 50 years.
Liverpool didn't sign any new strikers before Friday's transfer deadline, and lost 2-0 to Arsenal on Sunday.
John Henry's letter said they didn't want any "risky spending" on strikers the club couldn't afford.
'Disappointed'
Henry said: "I am as disappointed as anyone connected with Liverpool Football Club that we were unable to add further to our strike force in this summer transfer window."
One day before the deadline, Andy Carroll went on loan to West Ham - a move Rodgers said he wouldn't have allowed if he'd known there were no new strikers arriving.
But he has the option to end the loan arrangement with Carroll in the next transfer window.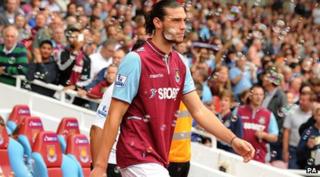 PA
John Henry said the club was still recovering from money mistakes by the previous owners.
He reminded fans of the arrival of other new players including Joe Allen, Nuri Sahin and Fabio Borini.