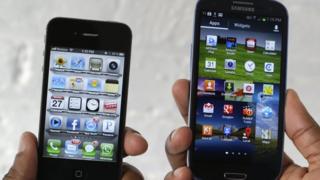 AP
Apple has accused Samsung of copying its gadgets again and has made a list of 21 devices it wants banned.
The new list includes the Galaxy S3 phone, which was a big hit for Samsung, and the Galaxy Note tablet.
In August a court in California ordered Samsung to pay Apple £644 million after it ruled that they had copied some of Apple's software designs.
Apple said: "Samsung has chosen to copy Apple's technology, user interface, and innovative style".
Samsung responded by saying Apple was going through the courts because it wanted to limit the amount of products people could choose from in the shops.
More than 10 million Galaxy S3 handsets have been sold worldwide since May 2012.