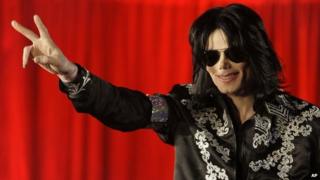 AP
Michael Jackson was an emotional "mess" ahead of his planned 2009 comeback, according to secret emails.
US newspaper LA Times got its hands on 250 pages of messages sent by AEG, the company running MJ's ill-fated This Is It tour.
On the day of the tour announcement in London, promoter Randy Phillips emailed his boss saying Jackson was locked in his hotel room feeling depressed and unwell. He also said the star was "riddled with self-loathing and doubt."
MJ eventually made a five-minute appearance in front of fans that day, but turned up an hour and a half late.
The King of Pop died in June 2009, weeks before the 50 gig show at London's O2 was due to begin.
The emails are important because they raise questions about whether Jackson was well enough to make the comeback.
They are likely to be used as evidence in two upcoming court cases next year - one between AEG and the shows' insurers, and another between AEG and Michael Jackson's family.
AEG lawyers say the emails do not give the full picture of what happened.