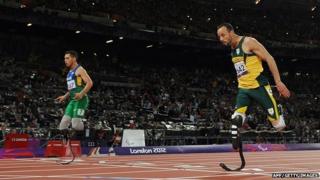 AFP/getty images
Oscar Pistorius has apologised for saying his main rival had an unfair advantage in the T44 Paralympic 200 metre final, immediately after the race.
The South African finished second behind Alan Oliveira but claimed afterwards that the Brazilian's blades were too long.
Pistorius, who was heavy favourite, said he was wrong to speak out straight after the race but insists it is an issue that needs investigating.
He's demanded a meeting with Paralympics organisers to discuss the matter further.
Oliveira was well behind Pistorius when they came into the home straight but powered past him in the last 50 metres to claim the gold.
Pistorius claims that is because his longer blades allowed him to cover the ground more quickly. After the race he told Channel 4: "We are not running in a fair race here.
"I don't know how you can come back, watching the replay, from eight metres behind on the 100 to win. It's absolutely ridiculous."
But on Monday the "Blade Runner" said sorry for ruining Oliveira's golden moment: "I want to apologise for the timing of my comments but I do believe that there is an issue here."
He wants to talk to Paralympic organisers about whether the length of Oliveira's legs and the procedures for testing them are fair.
Paralympic bosses have agreed to the meeting but say the length of Oliveira's prosthetic legs had been checked before the competition and were within the rules.