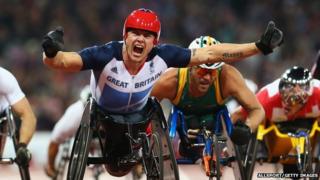 Allsport/getty images
Wheelrace racing star David Weir topped off a golden Sunday at the Paralympics which saw Great Britain win SEVEN gold medals!
He stormed to victory in the T54 5,000m thanks to a powerful late burst.
"You dream about winning on home turf," said the 33-year-old. "I'm a London lad, it's a dream come true."
He's won the London Marathon six times and took home two golds at the last Paralympics in Beijing - in 800m and 1,500m.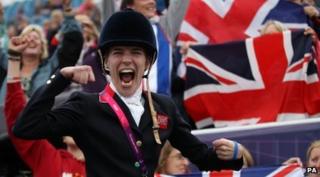 PA
Elsewhere, GB's equestrian team won two golds - they bagged the team title, while Sophie Christiansen beat her rivals in the individual dressage.
Anthony Kappes and pilot Craig MacLean continued GB's success in the Velodrome. Their tandem sprint gold made up for their disappointment on Saturday when they failed to finish in the 1km because of a mechanical problem.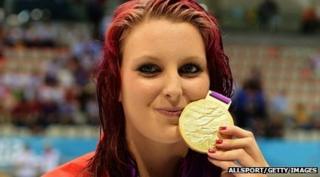 Allsport/getty images
Sixteen-year-old Jessica-Jane Applegate swam to victory in the S14 200m freestyle final. She set a new Paralympic record to get GB's third Paralympic gold in the pool.
After winning a shot put bronze, Aled Davies made it gold in the discus.
Great Britain won their first rowing title, in the mixed coxed four, thanks to David Smith, James Roe, Naomi Riches, Pam Relph and cox Lily van den Broecke.
Saturday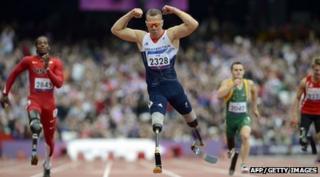 AFP/getty images
Sunday's success followed GB's five golds on Saturday.
Ellie Simmonds held on to her S6 400m freestyle title - and she did it in style by setting a new world record!
Double amputee Richard Whitehead also broke the world record on his way to 200m sprint gold.
Sarah Storey grabbed her second title of the Games in the individual 500m time trial.
Her husband, Barney Storey, matched that in the tandem 1km time trial - he was pilot for Neil Fachie.
Natasha Baker won gold in the Paralympic Grade II individual equestrian event.