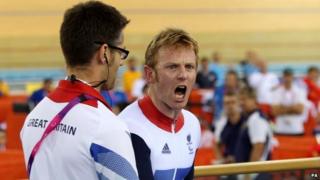 PA
There was drama in the Velodrome as GB cyclist Jody Cundy was disqualified from the C4-5 1km time trial.
His rear wheel slipped when leaving the starting gate and he was refused a second chance after officials ruled it was Cundy's fault.
Cundy was furious. He said: "I've wasted four years of my life to ride in front of 6,000 people."
The world champion later returned to apologise to the crowd for his angry reaction.
Fellow Brit Jon-Allan Butterworth went on to win silver in the event.
Cundy won two golds at the last Paralympics in Beijing. He used to be a swimmer but switched to cycling in 2006.
He was born with a deformed right foot which was amputated at the age of three.