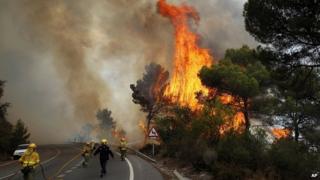 AP
A huge wildfire in Spain is getting close to the popular holiday resort of Marbella.
Thousands of people have been moved from the area. One person is known to have died.
The hot summer has left many areas of countryside very dry. Nobody is sure how the fire started but strong winds mean the flames are spreading fast.
More than 250 firefighters are battling to control the blaze.
Angel Nozal, the mayor of nearby town Mijas, said: "The fire is horrific, with flames 10 to 15 metres high."
The fire started on Thursday afternoon near Malaga.
It spread eight miles down the coast overnight and some homes have been burned down.