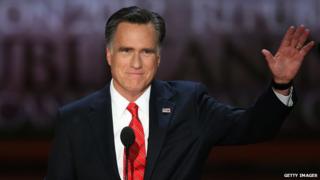 Getty Images
The race to be the next President of the United States is heating up.
Mitt Romney, the man who'll run against President Barack Obama in November's elections, has been speaking to members of his Republican Party.
Lots of Republican Party supporters have come together for a meeting called a national convention in Florida.
He told them that Obama has disappointed people and set out what he'd do better if he gets into the White House.
If he's elected, he's promised to create 12 million new jobs and make sure the country is able to provide enough energy to run itself.
He also told supporters, "I wish President Obama had succeeded because I want America to succeed,"
"But his promises gave way to disappointment and division. This isn't something we have to accept. Now is the moment when we can do something."