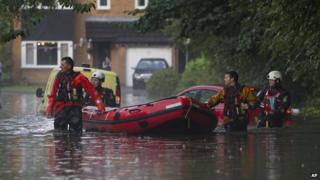 AP
If you thought this summer was a little bit soggier than normal, then you might be right!
New statistics from the Met Office show that 2012 is set to be the second wettest summer since records began.
Summer officially ends at the start of September but so far the rainfall for the past three months has been the heaviest for 100 years.
Figures up until 29 August show that 366.8 mm of rain fell across the UK this summer.
The record amount of rainfall for June, July and August is 384.4 mm, which was set in 1912.
The months between April to June were also the wettest ever recorded in the UK.
Experts think this summer had been so wet because of a jet stream being in the wrong place.
The jet stream is a fast moving band of high pressure in the atmosphere which normally moves over to the UK from America.
It should be sitting across Scotland and the north of England but was much further south this year, which is why there was so much rain.