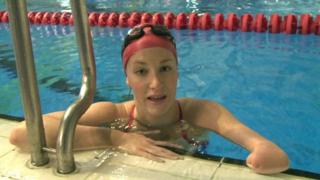 Nasty comment inspired swimmer
Swimmer Claire Cashmore has spoken about how a nasty comment when she was younger inspired her to try and become a Paralympic champion.
She was taking part in a competition when a little girl asked her: "How can you swim? You've only got one arm."
Claire went on to prove the girl wrong by winning her race!
London 2012 is her third Paralympic Games. She won bronze in Beijing four years ago in the 100m breaststroke.
Watch our interview to find out more about Claire and the tough training she goes through.