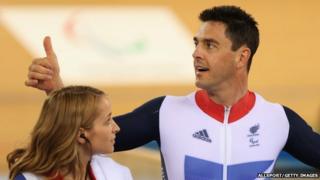 Allsport/getty images
Great Britain have won their first medal of the Paralympics - a silver for cyclist Mark Colbourne in the C1-2-3 1km time trial.
Colbourne clocked a time of one minute 8.471 seconds, just over three seconds behind the winner, China's Li Zhang Yu.
The Welshman said: "We've worked for the last eight months towards this. I'm very happy."
The time trial is a straightforward race, where athletes take to the track alone and the fastest time wins gold.
In 2009, Mark suffered a broken back while paragliding, which left him with lower leg paralysis.