The man who'll be challenging Barack Obama to be US President gives his big speech to his party on Thursday.
Republican Party supporters have come together for a massive meeting called a national convention in Florida.
They've officially selected Mitt Romney as their guy to run for America's top job in politics.
He's hoping to beat Barack Obama, who's from the Democratic Party, to the White House in the US elections this November.
Who is Mitt Romney?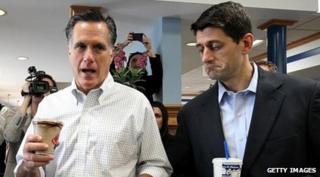 Getty Images
Mitt Romney is 65 years old and has been married to his wife Ann for more than 40 years. They have five kids.

He is a Mormon and used to be a bishop of his church.

Romney is a multimillionaire and has a background in business, which he says will help sort out America's money problems.

He used to be Governor of Massachusetts state.

He successfully ran the Winter Olympics 2002 in Salt Lake City, USA.

He's been known to make a few gaffes. Earlier this month he introduced his running mate Paul Ryan as "The next President of the United States" when he actually meant to say Vice President. Oops! Ahead of his visit to London in July, he appeared to question how ready the city was to host the Olympics. But later on he seemed to change his tune. It led to him being mocked by London mayor Boris Johnson!
His wife and 'secret weapon'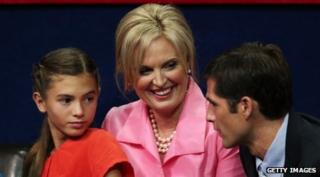 Getty Images
Mr Romney's team is said to view his wife Ann as a "secret weapon" that can help boost his appeal, especially with female voters.
On Tuesday she gave a speech, talking of their "real marriage" and about how her husband helped her deal with multiple sclerosis and breast cancer.
The idea was for voters to see more of Mr Romney's personality and make him appear more likeable.
Michelle Obama played a major part in helping her husband get elected back in 2008.