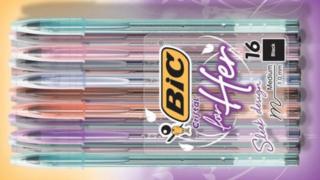 Bic
A range of pens for girls has made headlines after getting hundreds of funny online comments from people who think they're a ridiculous idea.
The Bic pens are designed to be lighter and come in 'fashionable' colours such as pink and purple.
They've drawn a big reaction on an online shopping website.
One woman joked: "Finally, pens for women! I don't know what I've been doing all my life writing with men's pens. It's just been such a hassle!"
Another added: "A few years ago, I did dreadfully badly at my university exams and I now know why. I had purchased the wrong pen."
One shopper was left confused: "How are you supposed to use these without paper made for girls?"
Bic said they developed them after customer feedback and they were meant to be a "fun alternative to standard, more traditional pens".