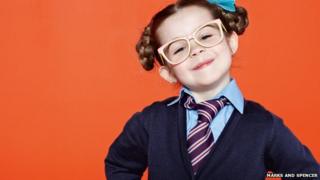 Marks and Spencer
School uniforms should not be changed too much because it costs parents a lot of money, say campaigners.
More than half of England's secondary schools could be changing their uniform as they become academies.
The average secondary school uniform now costs more than £200, according to the Local Government Association (LGA).
Councillor David Simmonds from the LGA said headteachers should keep costs down for parents by making only small changes.
He said this could mean "Staying close to an existing colour scheme, changing one item only such as a tie, or allowing parents to sew new badges and logos on to clothes".