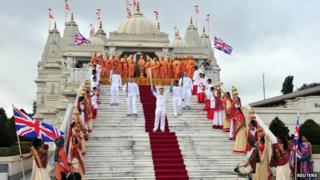 Reuters
Thousands of people have turned out to see the Paralympic flame on its journey to the Olympic stadium ahead of the big opening ceremony.
Crowds have lined the route of the 24-hour torch relay which began in Stoke Mandeville on Tuesday night.
The relay was running two hours behind because of a late start and changeovers taking longer than thought.
A splinter flame has been taken to the stadium to make sure that the cauldron is lit on time.
Organisers have said they'd reduce the breaks between each leg to speed up the final parts of the relay.