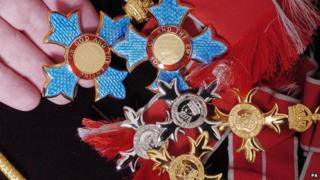 PA
Too many celebrities are being given honours like knighthoods, according to a group of MPs.
People who have made an outstanding contribution to society sometimes receive a special title like MBE, or are knighted and become a Sir or Dame.
Some MPs are worried that too many are going to celebrities and top government officials rather than to ordinary people who do extraordinary things.
They reckon big changes need to be made or honours could lose their status.
The group think the titles should only be given to people who go above the line of duty, not to celebrities or sports personalities who reach a certain level or top businessmen who are simply doing their day jobs.
They found that members of the public still think the honours system is important but not many people understood how or why they were awarded.
The names of people to be honoured are published twice a year and are given out by the Queen.
Anyone can recommend someone to be honoured but nominations are finally decided by the government.