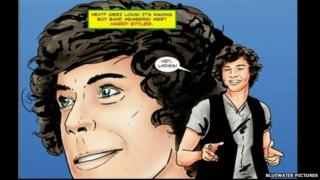 Bluewater Pictures
Boyband One Direction are already global superstars but now they've gone one better with their own comic book.
It's now even easier to get your hands on the boys as they've all been made into cartoon characters.
The book will tell the story of their rise to stardom- from X Factor contestants to sold-out concerts.
Niall, Zayn, Liam and Harry will each have their own page and the group's boss Simon Cowell will even make an appearance.
The boys will join the likes of Katy Perry and Madonna who have also had comics made about their lives.
You'll be able to get your hands on a copy soon- it'll be hitting stores and going online.