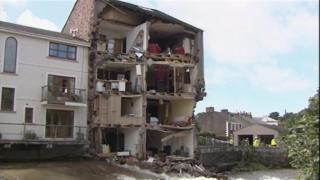 Heavy rain and flooding caused part of this riverside house to collapse. Luckily no-one was home at the time.
The back of the house crumbled into the river Ehen in Cumbria. River levels rose by two metres in just 24 hours.
It happened when part of the house wall was swept away by the fast flowing water.
The owners of this house were away when the accident happened, they've been told their home will have to be demolished.
Other homes in the street were evacuated and a temporary flood defence has been put up to stop it happening again.
Weather forecasters have predicted more heavy rain- some parts of the UK are expecting three weeks worth of rain in one day.
This summer has been the wettest in a hundred years! But it doesn't quite look like it's over yet.