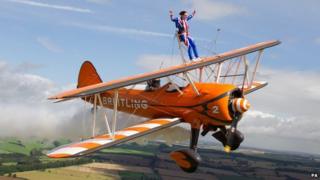 PA
Gymnastic star Beth Tweddle swapped the uneven bars for a plane when she took to the sky to fulfil her mission of wing-walking.
Beth won her first Olympic medal this year. She bagged bronze in the uneven bars event and now says she's retiring from gymnastics.
Now that she's not spending all her time training for the games- it's time to try something a bit different!
For this mission she was strapped on top of a plane as it flew through the air.
Wing-walking isn't the only thing on her list. She taking snow boarding lessons and even wants to give sky diving a go!
Could these dare-devil sports be new careers for Beth?
Beth says she would never have been able to do anything like this whilst she was training in case she got injured so she's making the most of her time off.