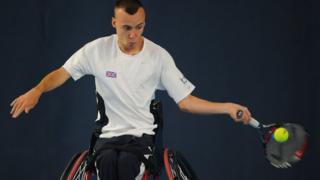 PA
The London 2012 Paralympic Games will include 20 different sports - including some that you might not have heard of before.
Sports like swimming, cycling and athletics will happen in a similar way to their Olympic equivalents but split into many different classifications depending on the athlete's level of physical, visual or intellectual impairment.
But there are some additions to help - in running, guide runners are used by visually impaired athletes and in swimming visually impaired swimmers are tapped on their bodies to help them know they've reached the end of the pool.
Getty Images
You'll spot some more differences in other sports like blind football. The pitch is smaller than in football and the ball makes a sound as it moves - it helps players know where it is, but means spectators have to be silent so it can be heard.
There are two sports which you'll only find at the Paralympics too:
Goalball

hastwo teams of visually impaired athletes who must throw a heavy ball filled with bells into the opposing team's net, while defenders try to block it.

Boccia

is a bit like bowls, athletes roll, throw or kick the balls, aiming to land them close to a target.