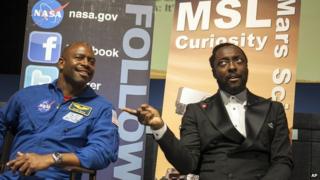 AP
Will.i.am's music is heading out of this world as his new song is set to premiere on planet Mars.
The Curiosity rover which is on the red planet will be play his new track, Reach For The Stars, on Tuesday evening right from the surface of Mars.
This musical adventure comes after the Nasa robot beamed back a human voice for the very first time on Monday.
A Nasa scientist had sent a message to the planet and Curiosity successfully sent it back again.