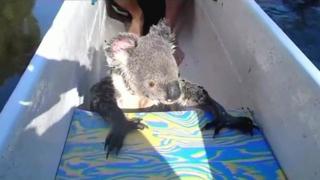 Koala hitches a canoe ride!
A group of canoeists in Australia were suprised when a koala bear hitched a lift!
The animal was seen on the river bank, and it seemed like the opportunity for a canoe ride seemed too good to miss!
Koalas are not known for their swimming skills but it still managed to paddle its way out to them.
The canoeists took the marsupial along the bank to some gum trees where other koalas are known to live.
Video from Burliegh Point Outrigger Canoe Club