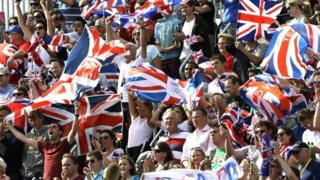 AP
A massive parade is being planned for Team GB and Paralympic GB's athletes.
The event called 'Our Greatest Team Parade' will take place in London on Monday 10 September, the day after the Paralympics finishes.
Around 800 athletes will travel on 21 floats to celebrate their success.
A similar parade took place four years ago after the Beijing Games, but this one is set to be bigger and better!
The procession will leave London's Mansion House at 1:30pm and will travel past Trafalgar Square, through Admiralty Arch and into The Mall.
Fans can turn up on the day to watch the first part of the parade up to Trafalgar Square, but organisers are warning people to arrive as it's going to be really busy.
Mayor of London Boris Johnson said: "This is a chance to celebrate the heroes and heroines who have thrilled us with their skills, sportsmanship, and grace."