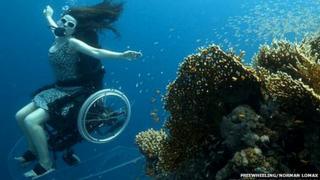 Freewheeling/Norman Lomax
A self-propelled underwater wheelchair is being put through its paces by artist Sue Austin.
Sue developed a chair that glides through water with help from dive experts and academics.
It works by using a propeller to move the chair and fins at the backs of her legs steer below water.
Sue has been a wheelchair user for 16 years and first had the idea after learning to scuba dive.
"When we started talking about it, people were saying it wouldn't work. That the wheelchair would go into a spin because it was not designed to go through water - but I was sure it would."
The chair will be used to perform underwater acrobatics as part of the Cultural Olympiad celebrations.