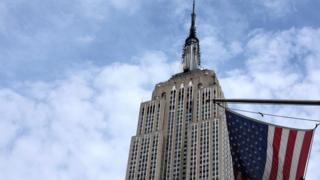 A number of people have been shot in New York outside the Empire State Building.
American Police say a man opened fire on people outside the building, which is a major tourist attraction in the city.
City officials say nine people have been wounded and taken to hospital but their injuries are not thought to be serious.
The gunman and one other person are dead.
New York Police Department have held a press conference in the city and said that the shooting isn't related to terrorism.
They named the gunman as 53 year old Jeffrey Johnson and said he had lost his job as a shop worker a year ago and had an argument with someone in the workplace before he began shooting.
They confirmed that the person he shot dead was a 41 year old man and they had previously worked together.
The gunman was shot dead by New York Police who were alerted to the accident.
The Empire State Building is a 1,453-ft (442-metre) skyscraper, which attracts nearly four million visitors a year.
The shootings happened at around 9am local time on the junction of 34th Street and Fifth Avenue. Roads around the skyscraper have been closed.