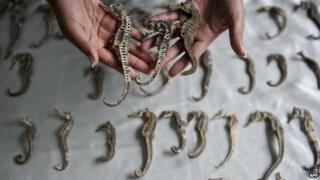 AFP
Police in Peru have seized 16,000 dried seahorses, they are used as medicine in some countries but it is illegal to trade in them.
It is against the law to fish for seahorses because they are a protected species but some people do it anyway because they can sell them for a lot of money.
Powder made from the dead seahorses is used in traditional medicine in Japan and China and is believed to help cure asthma.
Police chief Victor Fernandez told the BBC the seahorses they seized were worth up to $250,000 (£160,000) abroad.
Although they are protected by the Convention on International Trade in Endangered Species the authorities say the high price that traders can get mean it is very difficult for them to stop people selling them.
Police in Peru say that last year a total of 20 tonnes of dried seahorses were seized across the world - half a tonne in Peru alone.