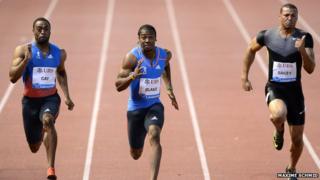 MAXIME SCHMID
One of the stars of London 2012, Yohan Blake, stole the show at the first big athletics event since the Games.
The sprinter, known as 'The Beast', ran a mega quick time of 9.69 seconds in the 100m - the joint third quickest time ever!
There was one man missing from the race though...world record holder Usain Bolt.
He only competed in the 200m - which he won of course!
The two Jamaican sprinters have said they won't compete against each other in the same race again this season.
'The Beast' v 'The Lightning Bolt' was one of the big highlights of the London 2012 Olympic Games.
But now they are saving the big show downs until the really big events.
Bolt himself cruised through the 200m, winning by a distance.
The two were racing as part of a athletics competition that happens over the year called 'The Diamond League'.
It's a bit like the Premier League in football - athletes get more points the more events they win, as they compete at different meetings around the world.
There are only three more events left in the season, after last night's meeting in Switzerland.