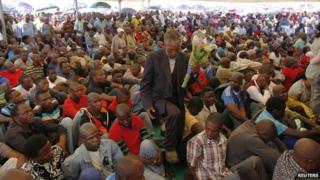 Service for South Africa Miners
A memorial service has been held for workers who died during protests at a platinum mine in South Africa.
Thousands of people, including politicians and church leaders, attended the service in Rustenburg to pay their respects.
34 people were killed during violent clashes with police last week after miners went on strike.
They say they want to be paid more for the hard work they do.
Earlier during the protests eight other workers and two police also died.
The protests have now spread to other platinum mines in the country.
Platinum is a precious metal that is used to make things like jewellery. South Africa is one of the biggest producers of the metal, meaning the economy of the country depends heavily on it.
The strikes have caused the price of platinum to go even higher.