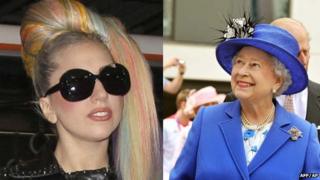 AFP/AP
Lady Gaga has beaten the Queen in a list of the world's most powerful women.
The popstar came 14th in the list, beating Her Majesty by 12 places.
The list is made every year by a magazine in America, it ranks women in order of how much money, power and media influence they have.
Lots of people on the list are politicians but authors and business women are also included.
The Chancellor of Germany, Angela Merkel, got the top spot for the second year in a row.
This year, there were only two British women in the top 100, the Queen and the Harry Potter author J.K. Rowling.