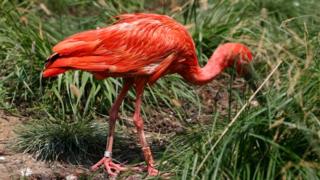 Have you seen this bird?
This rare scarlet ibis, called Cherry, escaped from its home in Edinburgh zoo yesterday.
The tropical bird has been spotted three miles away hiding in the car park of a nearby dentist but hasn't yet been caught.
Keepers think that it may have been helped by a squirrel who had made a hole in its cage.
They're hoping that when the brightly coloured bird gets hungry it'll make its way back home.