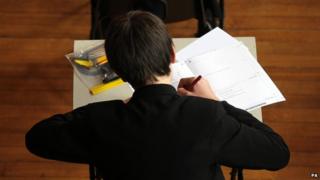 PA
Pupils across England, Wales and Northern Ireland are getting their GCSE results.
Thousands of teenagers will be opening e-mails, text messages and envelopes to find out their grades.
The government have announced that they'd like to make some big changes to the way the tests are run.
Some changes have already been made to this year's tests with pupils being marked more on their spelling and grammar.
From September there will be less course work included in subjects and students will have to sit all their exams at the end of their second year.
At the moment students can take exams after they finish each part of the course but some people think this makes them too easy.
Most pupils in Scotland take Scottish Standard Grade and Higher qualifications instead.