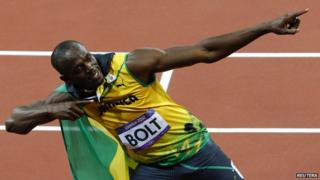 Reuters
He's already won six Olympic golds in the 100m and 200m races, so what next for Usain Bolt?
The super speedy sprinter has said that he is looking for a new event to try out for the next Olympic games in Rio.
Bolt said "My coach wants me to do 400 metres, I want to try long jump.
"It's just about making different goals, there's a lot of things I can do in the sport."
So could it be Usain Bolt, long jump champ in 2016?
He wouldn't be the first athlete to switch sports, American sprinter Carl Lewis, won two Olympic 100m titles in 1984 and 1988, went on to win four golds in the long jump.