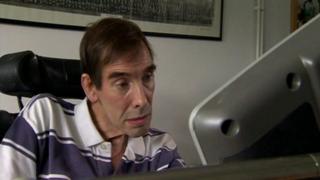 Tony Nicklinson, the severely disabled man who recently lost a big court case about whether doctors could legally help to end his life - has died.
He had been paralysed for the past seven years and could only communicate by blinking, using a special computer.
Tony's family said he died peacefully at his home on Wednesday morning, thanking people for their support.
Before he died, Tony had asked them to tweet: "Goodbye world the time has come, I had some fun."
The court case was decided just a week before he died.
Tony wanted the right to ask doctors to help him end his life painlessly.
But the judge said it was a very difficult decision and he was not prepared to make such a big change to the law.
If a doctor had helped Tony to die they could be accused of murder.
Tony had wanted the court to make an exception in his case and let someone end his suffering.