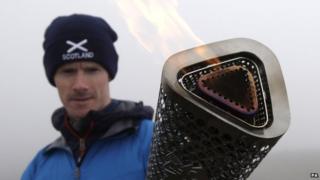 PA
Four Paralympic flames have been lit on top of the highest mountains in England, Wales, Scotland and Northern Ireland.
They were sparked by four separate groups of scouts who climbed to the highest points in the United Kingdom to create the flames.
The scouts struck flint against steel to make the sparks at the tops of the mountains.
It's been done to mark the start of the Paralympic torch relay.
The flames were then carried down in lanterns ahead of celebrations in London, Edinburgh, Cardiff and Belfast over the coming weekend.
It wasn't easy. Some climbers came up against difficult weather conditions to light the flames.
The scouts are being helped by mountain guides and people with disabilities to complete the climbs.