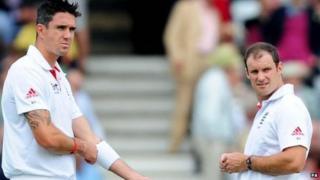 PA
Cricketer Kevin Pietersen's been left out of the England squad for the World Twenty20 tournament.
KP was dropped for the test match against South Africa after claims he sent text messages to opposition players insulting England captain Andrew Strauss.
He said sorry for that and expressed his desire to get back into the squad.
But the selectors have chosen not to pick him for the tournament he helped England win two years ago.
The World Twenty20 competition is held every two years and is effectively the world cup for the shorter, 20 over, form of cricket.
Pietersen was named the player of the tournament when England won it in 2010 but not being picked this time round has led to further questions about whether he'll ever represent England again.
England coach Andy Flower admitted: "Pietersen played superbly in our last Twenty20 World Cup but the circumstances that exist at the moment mean that he can't be selected for us."
"There are still issues unresolved and we will be addressing those issues when we have time to do so."
Although Pietersen is one of England's best players he has not been chosen because the bad feeling between him and the rest of the team has not been put right yet.