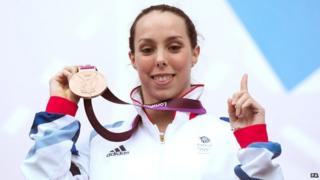 PA
Team GB's bronze medal gymnast Beth Tweddle has been speaking to Newsround about life after the Olympics.
Beth has been a gymnast for 20 years and despite being a World and European Champion only won her first Olympic medal at London 2012.
After fulfilling her life's goal she's now thinking about retiring from international competition.
But she says she hasn't decided fully and will keep training to keep her fitness levels up in the meantime.
Beth is a three-time World Champion, 6-time European Champion and Commonwealth Champion but was determined to become an Olympic medallist as well.
She said: "I've got my dreams now and I finally finished up with the one thing that I had to achieve."
She said she won't ever walk away from gymnastics completely but now wants to do other things.
Although she won't miss the hours of intense training she has admitted she will miss showing off to the crowds during competitions.