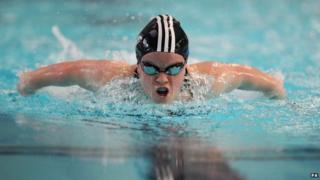 PA
Britain's Paralympians have been set a target of bringing home 103 medals in the London Games.
Britain came second in the Beijing Paralympics and they'll be aiming to do the same again this year.
UK Sport, who set the target, wants medals in at least twelve sports.
The athletes only need one more medal than the last games to reach the target but following on from Team GB's Olympic success they'll be looking to smash that record and go even better.
TeamGB's Olympians brought home 17 more medals than expected - can the Paralympians do the same?
Sarah Storey, one of the British cycling hopefuls, says she wants the London 2012 party to carry on for the Paralympics.
In the last Paralympics, Britain starred in a variety of sports, including rowing, cycling, wheelchair tennis and swimming.
The head of UK Sport, Baroness Sue Campbell reckons we're ready to go even further this year. She says British Paralympic sport is in a stronger position than ever before.