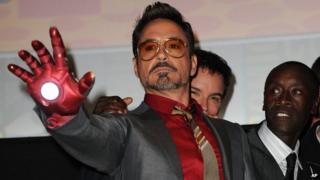 AP
It seems even Iron Man isn't indestructible - star Robert Downey Jr has hurt himself whilst filming a stunt for the next superhero instalment.
Robert's ankle injury is only minor but filming has had to stop on Iron Man 3 while he takes time off to get better.
He's played Tony Stark/Iron Man in all three of the films so far, and Robert does most of his own stunts rather than relying on a double.
Iron Man 3 should be hitting the big screen in 2013.
The first two films were a massive success with the latest in 2010 bringing in almost £400 million worldwide. The third adventure is set to be just as big.
It's a busy time for Robert - he's just confirmed he'll be returning to his iron suit for The Avengers 2.
The first film was a superhero bonanza. Iron Man teamed up with the likes of Captain America, The Hulk and Thor to smash box office records.
Get better soon Robert!