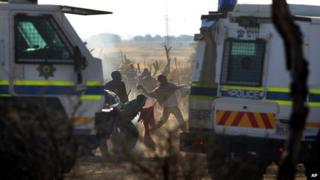 AP
Thirty people have died after the police opened fire on protesters at a mine in South Africa.
Thousands of workers had gone on strike because they were angry about their pay.
Witnesses say that police officers started shooting at the workers after they couldn't break up the protest.
It has been the most violent clash between police and protesters in South Africa for years.
For decades a system of apartheid kept black and white people separate in the country, and caused many violent clashes with the police.