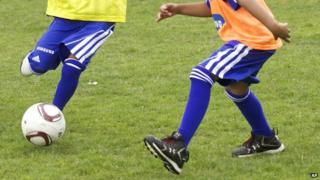 AP
The government have apologised for giving out wrong information about how many school playing fields have been sold off in England.
The Department of Education did say that only 21 fields had been sold since 2010 but now say that the number is actually 30.
They say that officials gave them the wrong data.
Earlier this week new rules on how much outdoor space pupils should have for sport were announced.
Schools used to have to set aside 25 to 50 square metres of playing room for each pupil, depending on how big it is.
Now they only have to make sure there is "suitable outdoor space".
But the government said it still has "extremely strict rules" on the selling off of playing fields.